Done for You (DFY) Digital Marketing for Real Estate Brokerages and Teams
Spend more time buying and selling properties while we handle your digital marketing for you.
Do You Struggle With the Following?
Generating online leads
Devoting more time to sales
Driving traffic to your website
Developing successful PPC campaigns
Marketing to your database
Finding the time to blog
Staying in touch with past clients
Managing all your lead sources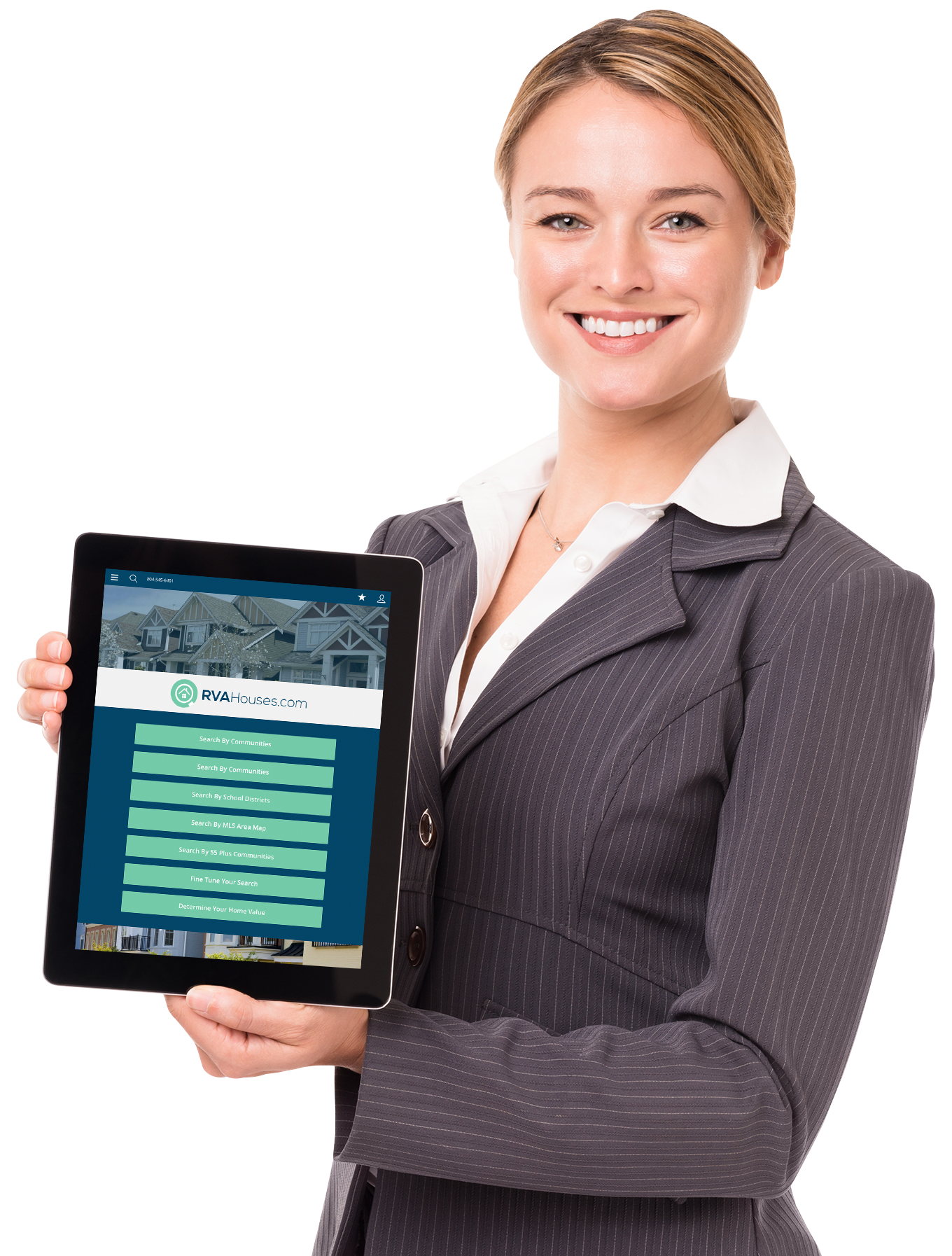 Learn How Our Full Suite of Managed Services Can Help

Funnel Optimization
You've got a number of digital platforms out there bringing in leads. We can help make them more manageable and effective.
There is no shortage of digital technology in the real estate space. It can be fairly easy to add another website to your other sites, but do you really have a strategy in place for managing the flow of leads you receive?
Without a proper funnel optimization strategy and sufficient lead follow-up system, you could have a leaky funnel and could be losing out on much more business.
With our consultation and a true database marketing plan, we can put together a strategy that ensures your marketing automation technology is properly aligned with your sales team so that you never let another lead slip through the cracks.

Funnel Optimization
Includes:
Tag Management
Email Strategy
Text Strategy
Sales Process Management
Automation Consulting
Post-purchase Engagement
Integration Consulting
Multichannel Management
CRM Management
Search Engine Optimization
You can think of us as your SEO guardian working behind the scene to ensure your high rankings.
Proper SEO management takes significant time and requires constant vigilance, especially with the ongoing ranking changes the search engines are making. We take this off your plate with our managed SEO services that comes with a 100% performance guarantee on our full SEO services package.
To see all the SEO checkpoints that we take care of for you, download a pdf of our managed SEO services.
SEO Light
Objective:
Address most significant, immediate SEO issues, part of comprehensive digital marketing package
Includes:
Guidance and recommendations on:
Content Optimization
Link Building
Local SEO
Monitoring and Adjustments
SEO Full
Objective:
Comprehensive, fully managed, ongoing, Done for You (DFY) services of all SEO issues
Includes:
Everything from the Light Plan
Plus:
100% performance guarantee, ongoing content optimization, 225+ business listings, Online Yellow Pages and SuperPages, voice search submissions, Google My Business, and much more (see next 2 pages)
Pay Per Click
Drive more traffic and generate more leads with our managed Google AdWords and Facebook Ads pay per click services.
As certified professionals, you can rest assured knowing that the management of your Google AdWords and Facebook Ads accounts is in good hands as we manually monitor your accounts.
One of the major advantages to using our full suite of managed services is that you can make the most of your PPC advertising by providing your prospect something of real value like a homebuyer's guide or an informative blog post.
To get more detailed descriptions of what we handle for you, download a pdf of our managed PPC services.

Google AdWords
Includes:
Keyword Research
Campaign Structure
Ad Creation
Ongoing Optimization
Manual Campaign Management
Monthly Reporting
Benefits:
We are a Google Agency Partner.
Human oversight over campaigns.
Management team has over 16 years experience providing PPC services.

Facebook Ads
Includes:
Boosted Posts
Ad Creation
Monthly Reporting
A/B Testing
Package:
Part of CONTENT & ADS package in Social Media Management.
Benefits:
The same team responsible for your Facebook posts will be responsible for your Facebook Ads.
Landing Pages
Great Offer + Landing Page = Quality Leads
When a user "lands" on your landing or squeeze page as it is sometimes called, your user is provided a distraction-free web page that is designed for one single purpose…to capture the users contact information.
A landing page is a great complement to your Google AdWords and Facebook Ads strategy as it presents just one call to action and a simple form.
We design a custom landing page specific to your page's offer and use a set of advanced conversion tools to make the offer as compelling as possible.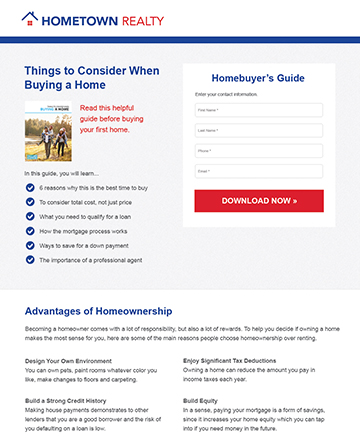 Landing Pages
Includes:
Artwork
Copywriting
Web Design
Lead Magnet Linking
Set Up:
Landing Page
Analytics & Reporting
CRM Integration
Benefits:
1 Single Call to Action
Benefits Clearly Presented
Seamless User Experience from Google AdWords or Facebook Ads.
Facebook Management
We represent you on Facebook with posts and ads that keep you top of mind.
Representing your voice on Facebook is something we take very seriously. We strive to keep you part of the ongoing conversation with your prospects with content and ads that engage and motivate your prospects.
We offer three levels of Facebook management, all with the option for us to handle your listings on Facebook as well. Engagement increases with each level. The Content & Ads and Content, Ads & Engage include our Facebook Ads services.
Content Only
OPTIONAL:
Property Listings Posts
(recently sold homes, price changes, open houses)
Up to 40 posts per month
Content & Ads
OPTIONAL:
Property Listings Posts
(recently sold homes, price changes, open houses)
Up to 40 posts per month
Content, Ads & Engage
OPTIONAL:
Property Listings Posts
(recently sold homes, price changes, open houses)
Up to 40 posts per month
Blog Management
Win more leads with blog posts that show your real estate expertise and your unique value proposition.
Spend more time on sales while we focus on creating and publishing original, relevant blog posts that engage your prospects. These blog posts engage current home buyers and sellers as well as position you as the "go to" agent for their future property needs.
We have two managed blog posting options for you. Our Light Plan includes bi-monthly blog posts with a quarterly e-newsletter and our Full Plan includes weekly blog posts with a monthly e-newsletter. Both plans are DFY services that include set up on your blog and in your email.
Light Plan
Includes:
1 National Real Estate Post
1 Local Real Estate Post
Set Up:
On Your Blog
In Your Email
Full Plan
Includes:
2 National Real Estate Posts
1 Local Real Estate Post
1 Lifestyle Post
Set Up:
On Your Blog
In Your Email
Database Marketing
Go beyond drip campaigns with an advanced automated database marketing solution.
Move beyond basic "one size fits all" drip emails to an advanced database marketing solution that includes nine pre-built, automated campaigns that turns leads into transactions.
The email campaigns have been created to provide valuable content to the nine different types of contacts you have in your database. When you are providing truly helpful messaging to your prospects, you differentiate yourself from other agents as a true expert.
For more detailed descriptions of each pre-built campaign, download a pdf of our managed database marketing services.


Infusionsoft Package
Includes:
Infusionsoft Platform
9 Pre-built, Automated Campaigns
Training:
Recorded One-on-One Training
Set Up:
Campaigns, Tags, Contacts
Connect to Lead Sources
Support:
Ongoing Brokerage &
Agent Support
9 Pre-built Campaigns
General Buyer Campaign
General Seller Campaign
Expired Listing Campaign
FSBO Campaign
Active Seller Campaign
Buyer Post Closing Campaign
Adopt a Buyer Campaign
COI / Past Client Campaign
Click Notification Campaign
Lead Magnets
Show your expertise and authority with lead magnets that build your database.
Nothing attracts prospects better than useful, educational information. This gets to the heart of inbound and content marketing…marketing so useful that your prospect keeps coming back for more.
Show your prospect that you are a skilled, experienced agent by offering them a homebuyer's or seller's guide, a competitive marketing analysis, or a current market report.
With consistent publishing of such valuable content, you will be well on your way to successfully differentiating yourself from your competition.

Buyers & Sellers Guide
An 8-12 page digital paper that walks the prospect through the home buying or selling process.

CMA
An examination of the prices at which similar properties in the same area recently sold.

Relocation Packet
Information such as school systems, crime rates, and shopping that an out-of-town buyer would find useful.

Infographics
Explain complex concepts with graphics that can be used on your many channels and shared by users.

E-book
Present "how to" information in an in-depth, 12-40 page, visually attractive digital format.

Video
Video messaging and consulting services are available as are post-production services such as editing.

Webinar
Schedule an online webinar on how to stage a home, increase curb appeal, or buy foreclosures.

Reports
Provide your audience with home activity in a particular neighborhood area, school, and crime information.

Lists
Present properties by type: bank-owned properties, short-sale homes, 203(k)-eligible properties, etc.
Analytics & Reporting
We're a data-driven agency able to provide profitable insights from advanced reporting.
When it comes to your digital marketing, there's no guesswork involved. We rely on sound analytics and reporting to help us make effective strategic decisions for you. This is how we're able to dial in just the right approach for you, your marketing, and your business objectives.
Now, it's likely you don't geek out on data like we do. No problem…we can bring you into the weeds with us, or we can just give you a high level summary of what the data is telling us. Either way, you can expect regular, ongoing engagement with us.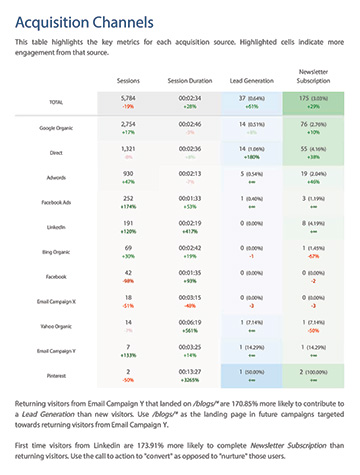 Analytics & Reporting
Includes:
Website Analytics
Channel Analytics
Google AdWords Analytics
Facebook Ads Analytics
Social Analytics
Email Reporting
SEO & PPC Data
Keyword Data
Competitive Research Data
Predictive Analytics
Monthly Reporting
Strategic Consultation

Overwhelmed and Confused by All the Digital Products Today?
So much of it comes down to fundamentals and consistency. We can help sort the hype from the help and put you and your team on a path towards success.